Are you looking for cute dogs for sale? Well, you have come to the right place because PetCenter in New Jersey has plenty of puppies for sale!
Spring is a beautiful time of the year, so why not make this the time to get a new cute puppy? There are an abundance of dogs anxious for a new friend and home they can be comfortable in. If you are considering buying a dog but are still a little apprehensive, here are some reasons why buying a dog is a great idea! Want to check out pictures of our cute dogs for sale looking for their furr-ever homes, check them out right here!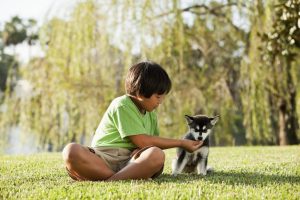 1. Dogs are extremely great friends.
Dogs can become your forever best friend. As you and your dog bond, you will become inseparable and wonder why you didn't buy a dog sooner. The relationship you will develop with your dog can be extremely fulfilling. The loyalty and companionship of a dog is unique and rewarding. Dogs love you unconditionally and can be warming to your heart and soul.
2. Dogs can motivate you to keep up a workout routine.
Like most of us, you may be falling a little short of your New Year's resolution to work out daily, but having a dog will force you to get back into a workout routine. Walking your dog daily will ensure you get the exercise your body needs. Dogs have quite a bit of energy and enjoy play time, this makes them excellent motivators to keep you moving toward your workout goals.
3. Dogs are beneficial to your health.
Studies have shown that people who own dogs have lower blood pressure and stress levels. Lower stress levels help to improve your mental and physical well-being. Dogs aid in reducing our day to day anxiety. Having an anxiety-reducing friend will help you live a calm, less stressful life. A less stressful life with your dog could mean a longer and healthier life for you.
At PetCenter in New Jersey we have a variety of cute dogs for sale. These dogs need a home and a friend to build an everlasting bond with. Hopefully, you now see the benefits of owning a four legged friend for life. Your best friend is waiting for you, so visit PetCenter in New Jersey today and purchase one of our cute dogs for sale!