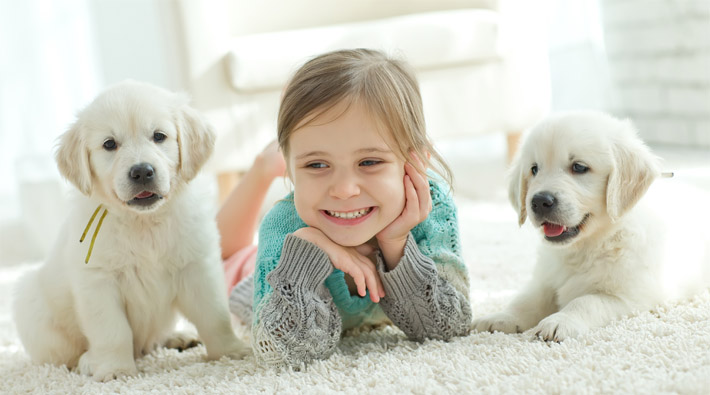 The PetCenter in the Shoppes at Old Bridge is locally owned and operated. It is a full-line PetCenter which offers pet supplies, small animals, birds, fish, reptiles and puppies.

PetCenter is a retail pet industry leader in animal care and has advanced by developing state-of-the-art standards for its retail pet stores. We are for the continuation of higher standards within our industry and do not condone "puppy mills" in any way, shape, or form. As a matter of fact, we are for higher standards in animal care and we want to shut down puppy mills.
Where does PetCenter get their puppies from? Our Breeders
Contrary to what the Humane Society of the United States, other animal rights organizations and some activists portray, the PetCenter in the Shoppes at Old Bridge will not source their puppies from puppy mills. Additionally, our store will be a State-of-the-Art facility priding itself in animal care.
In the videos below, you'll see the owner of the PetCenter at some of our breeder facilities where we get puppies from.
Why choose PetCenter? Some Facts
We are a responsible choice!
PetCenter is among the safest place to buy a puppy. We comply with all local, state, and federal regulations such as Animal Welfare Act and not only adhere to all USDA standards, but go above and beyond such government requirements.
We're also the best in the business when it comes to providing a great, healthy environment for our pets before they go home. PetCenter uses spacious kennels maintained according to standards set by licensed professional veterinarians.
2 veterinarians perform separate exams on every puppy before it arrives at our store. A veterinarian examines every puppy during the stay at our store, and before it goes to its forever home. In addition, the potential customer can see the puppy's health records before every purchase.
All puppies are current on vaccinations & de-worming.
A 3-year hereditary & congenital warranty is included.
A 14-day viral warranty is included.
All puppies purchased get a free vet exam at a local veterinarian via a $65 PetCenter Gift card..
All puppies purchased get one free month of pet health insurance offered by AKC. Thereafter, the customer can renew and keep pet health insurance ongoing.
All puppies are microchipped.
All puppies purchased come with a lifetime Amber alert recovery system.
All puppies purchased receive training kennel and training supplies.
We provide puppy vitamins, treats, & supplements for all puppies purchased.
AKC or AKC Canine Program registration is included for all puppy purchases
And more…
PetCenter Old Bridge gives back to their community. More Facts
Our store prides itself in giving back to the community where we work and reside. See below for some examples of what PetCenter will be giving back to our community.
Adopt-A-Pet Program

Help local shelter and rescues find homes for pets
Fundraiser events to aid local animal shelter
Food donation program

Pets for a Lifetime!

We find new homes for our pets whose owners can no longer take care of them

Service K9 Support
Pets in the Classroom Program
Pet Therapy (Hospitals, Senior homes)
Children's Charities (St. Jude & Make-A-Wish)
Groups like HSUS want to ban heavily regulated pet stores like PetCenter for the following myths:
Busting Myths
Pet stores are responsible for pet overpopulation
For every puppy sold, a shelter dog dies
Pet stores buy from puppy mills
Pet stores sell sick dogs
There are plenty of purebreds in shelters
Pet bans keep puppy mill dogs out of communities
However, none of these claims are true based on statistics and other facts.
Many "rescues" are buying puppies from the same breeders they despise. They then sell these puppies to customers for big profits. More Facts
Rescue groups, historically speaking, are run by committed breeders, clubs, or experts who very carefully vetted puppies/dogs and matched them with the right type of homeowners. However, with the popularity of "adopt don't shop" initiative, there is a large amount of random sourced dogs' mislabeled as "rescue pets" and has become a big business. This is also known as retail rescue. Since the dogs sold are from rescues, there are no warranties, health records, sourcing of where the dogs came from or regulations protecting the customers like one gets from a regulated pet store.
Please read the following article on this massive problem:
Dog Rescuers Flush with Donations buy animals from Breeders They Scorn. Source, Washington Post
Over 1 million dogs a year are being imported from unregulated foreign countries/sources. More Facts
These dogs imported are not regulated like pet stores are at a local, State and Federal level. Many of these dogs being imported bring in serious diseases included rabies. These dogs are also being sold as "rescues" with no health records, warranties, or sourcing of where the dog came from.
The Federal Government (USDA) has released a report in Summer 2019 stating that over 1 million dogs were imported from foreign countries last year alone.
Please read the following articles on problems with importing dogs from unregulated sources:
The U.S. has become a dumping ground for foreign "puppy mill" and "rescue dogs." Here's is what needs to change. Source, Fox News
Where does that rescue dog come from? Source, Inside Sources
Did Your Rescue Dog Come from A Foreign Puppy Mill? Source, Humane Watch
Pet shelters are experiencing puppy shortages. More Facts
Why is this happening? According the New York Times strict spay and neuter laws are preventing breeding of dogs which creates less animals in shelters. In addition, some cities and States have outright banned the sale of puppies from pet stores. Without pet stores using good and highly regulated breeders, people are forced to buy their dog from a rescue or shelter. However, rescues and shelters do not breed dogs. Therefore, this severely limits consumers from getting the specific breeds they want. As explained above, there is a high amount of incentive for rescues to purchase breeds such as purebreds from foreign countries with no regulations, warranties, health records and so forth.
These diseased and unregulated dogs are entering the U.S. without any resistance. Whereas, pet stores that are heavily regulated are constantly scrutinized. The ironic part to this is that groups like the Human Society of The United States are responsible for putting up barriers like this and forcing customers to purchase their puppies from these unsafe and unregulated sources.
Please read the following articles on this matter below:
Does America Have Enough Dogs for the People That Want One? Source, Washington Post
How Anti-Breeder Laws Contribute to Pet Trafficking. Source, Humane Watch
Local and State legislatures are voting to keep regulated pet stores in business while raising animal care and welfare standards to help get rid of the "bad actors" and puppy mills. More Facts
Below are just a handful of examples.
Naples, FL:
"If bad breeders are the problem, then we need to do something about bad breeders." (Commissioner Andy Solis)
Click here to read the news release.
Manatee County, FL:
Click here to read the news release.
Arizona:
"Shutting down the good guys will do nothing to stop the bad actors. Rather, it will open the doors for more puppy sales from unregulated sources, where abuse and inhumane conditions are more likely. This bill ensures that puppies being sold in pet shops are coming from responsible breeders, and includes strict penalties for store owners who do not comply." (AZ Governor Douglas A. Ducey)
Click here to see SB 1248
Click here to see the Governor's public letter.
Ohio:
Click here to view SB 331.
The Humane Society of The United States. More Facts
Here are 10 facts you probably did not know about The Humane Society of The United States.
For more information or to answer any questions, please contact us