Have you been eying Schnauzer puppies for sale but haven't pulled the trigger?
Perhaps you've already purchased one of our Schnauzer puppies for sale and you're interested in learning more information about them. In any case, we're glad you're here. Continue reading to learn these interesting and historical facts about Schnauzers!
1. Their Whiskers are Protection
Sure their thick whiskers are distinct and cool, but they served a purpose beyond being picture perfect. A Schnauzer's snout, when matted together, actually protected the Schnauzer from being bitten by the vermin they hunted on farms.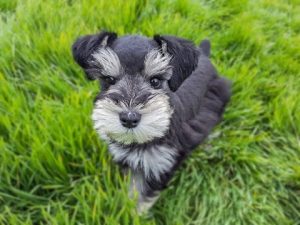 2. They're Original
Unlike other breeds like the Poodle, the three sizes of Schnauzer puppies for sale are totally separate breeds. The original size is the Standard Schnauzer, from which the Miniature Schnauzer and the Giant Schnauzer were developed.
3. Their Name Means "Snout"
The word Schnauzer comes from the German word, "schnauze," which means snout or muzzle. Repeat the word Schnauzer again and you'll notice that it sounds like "shnaz" which is a slang word for a big nose!
4. They Are Versatile Dogs
They performed many jobs for German families back in the day. Schnauzer puppies were used to guard the livestock, hunt vermin, and protect their owners. The Standard Schnauzer was the ideal size because he was small enough to fit in the farmer's cart but large enough to serve as a guard dog. Perfect combination!
5. They Worked for the German Army
As we just mentioned above, they would protect their owners so it's no surprise that the German army used them as guard dogs!
6. They Arrived in the U.S. With Immigrants and Travelers
The first Standard Schnauzer is said to have begun appearing in the United States in the early 1900s. They came with either German immigrant families or with Americans who had gone to Germany and purchased Schnauzer puppies for sale and brought them home.
7. They're True Family Members
One thing is for sure and it's that this breed is known for being an amazing pet companion who's completely devoted to their family members. No matter the size these dogs are excellent with kids and of course, they are awesome watchdogs.
At PetCenter, we always have Schnauzer puppies for sale. Give us a call today or take a look at our available puppies page by clicking here!