Rottweiler for Sale – What you should know about this kindly breed!
So are you interested in a puppy Rottweiler for sale? Here at PetCenter, we love how versatile this breed can be for many different types of families! Whether you are a single lady looking for a protection breed or a big family with lots of children looking for a furry family member, the Rottweiler is a perfect companion! Want to check out our available puppy Rottweiler for sale, just click here!
Check out some facts about this popular dog breed: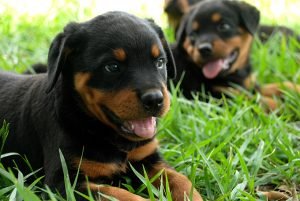 A Rottweiler is described as a strong, fearless and faithful pet and companion. This dog is very intelligent and will defend its owners from any imminent danger. Being fearless, intelligent and strong has made it one of the most sought-after dog breeds used for police work, guide dogs and for search and rescue.
Rottweilers are from Germany and have distinct markings on its body. It is very alert and displays confidence and strength.
Before taking a Rottweiler, here are a few facts about this beautiful breed
This dog does not need regular grooming but it needs brushing to keep its coat shiny and healthy.
This dog can surpass any breed when it comes to training and following commands. It can learn with fewer repetitions. Some owners want their Rottweilers to receive professional training so that it could follow special commands.
This dog will watch over property and its owners and will bark if there is imminent danger. It could be trained to attack and even to bite intruders if necessary to protect its owners.
The Rottweiler needs a lot of space to roam so it's not suitable for apartment life. This dog also needs regular exercise and a regular schedule has to be made to keep it in tip top shape.
This dog needs an experienced owner; it has to be cared for by someone who has the time and the energy to train it every day.
Have a Rottweiler puppy play with other pets and kids so that it could grow up with a well-rounded personality.
Like we said above, the Rottweiler can fit in seamlessly with many types of people and other pets! Let us help you pick out the perfect Rottweiler puppy to take home today!